Pay Per Click Advertising – Premier Google Partner in Cyprus
Paid Search and Display Ad Campaigns is often referred to as pay per click advertising or PPC and includes the use of sponsored ads on platforms such as Google Ads and Bing Ads as well as other regional search engines such as Yandex or Baidu in order to bring targeted traffic to your site. One of the key advantages of this type of advertising is usually the ability to pay on a click basis, which means that you will only pay if the user clicks on your ad and visits your website.
Paid search allows you to show your ads to users who are searching for a relevant product or service, which gives the added benefit of only advertising to a client who has already indicated an interest in your product. Bidding on a cost per click basis allows you to only pay if they visit your site.
Display campaigns allow us to reach a wide audience with various interesting targeting options, including those actively researching to buy products, reading relevant content or who have previously taken some action which allows us to determine they are valuable prospects to target.
Setting up and managing these campaigns properly can bring very different results. A paid search marketing and display campaign expert can drive up your click-through rates, your quality score and lower your cost per click and cost per lead or conversion. It is also important to note that in order for your campaigns to deliver the best possible results, continuous effort is required to optimise your campaigns in terms of ad text, keywords, campaign targeting and to ensure budget allocation is determined in a way which focuses resources on converting customers.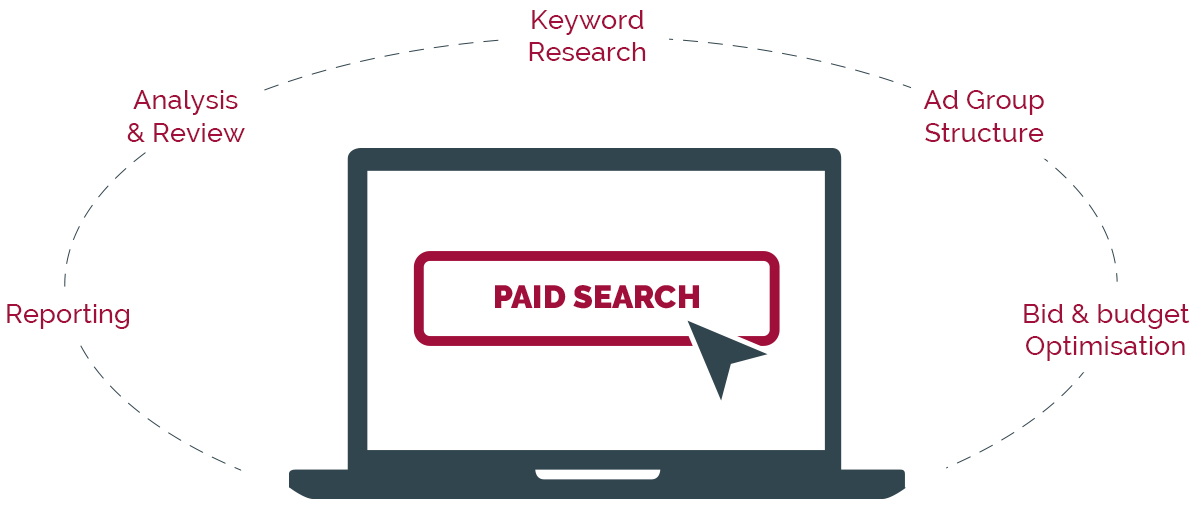 JPP Marketing offers complete solutions for PPC campaign set up and management for paid search, display, remarketing as well as YouTube video ad campaigns.
As a Premier Google Partner in Cyprus, showing a level of competence and understanding officially recognized by Google, you can be sure that your campaigns will be optimized in order to achieve the best return on investment for your money. We are a PPC agency in Cyprus with 6 Google Ads Qualified Individuals in-house and members of our team have passed requirements for specialisation in all areas of Google Ads including Search advertising, Display advertising, Video ads, Mobile and Shopping ads.
We also have several Google Analytics qualified team members to ensure that your campaign effectiveness is correctly measured and evaluated, rather being focused solely on sending you traffic and clicks.
The Google Ads system has made PPC advertising accessible to all and the user-friendly set up of the system means that many people can very easily and very quickly get their campaigns online. Unfortunately though, for many, this is where the process ends, and their campaigns are left running live with no further interference, and there lies a wasted opportunity.
Through tracking and managing your campaigns you cannot only consistently find new opportunities for targeting keywords or improving results, but you can also ensure your budget is focused on campaigns which produce converting customers, rather than just bringing traffic to your website. By combining analytics for ongoing measurement of results and a deeper understanding of the Google or Bing Ads system, JPP can not only improve your campaign performance but also lower your costs.
With JPP Marketing, we can take all the hassle away and set up your campaigns for you. We carry out detailed keyword research and phrase selection to identify the best opportunities for you to bring targeted traffic to your site. We can create all your ad copy and set up your campaign targeting, ad groups and conversion tracking and provide recommendations on landing pages and suggested optimization to improve results.
Our Pay Per Click Advertising services include:
Basic Site Audit
Keyword Research
Ad Copywriting
Ad Testing
Landing Page Selections
Campaign Set Up (Search, Display, Video, Remarketing)
Campaign Execution
Conversion Tracking Configuration
Campaign Management
Reporting/Review on Campaign results
We also offer an ongoing paid search management package to look after your campaigns and keep optimising, finding new keyword opportunities and dropping low performing words, ads and campaigns. Our focus is always on keeping your budgets tight with campaign performance and business results are our top priority. We will work with you to ensure that the countries you are targeting, the products and services you are promoting and the keyphrases we are optimizing for are the best fit for your business and produce results in terms of your business objectives whether they be new leads or actual sales.
As part of our compliance as a Google Partner, we are pleased to provide Google's complete disclosure for working with third-party partners.
---
---
Contact us to obtain a detailed PPC proposal.